Crating/Packaging
Crating/Packaging
Crates, Bins & Boxes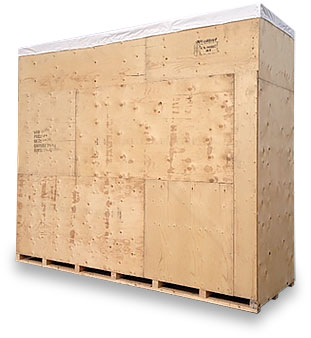 Constructed to handle the load and ensure your product arrives secure and undamaged.
Standard crates are designed to maximize container volume.
Custom crates are fit to the product or built to customer specifications, designs and/or blueprints.
Specialty Crates include display crates for trade shows and reusable hood crates. They may have hinged, chained, latched or removable lids, removable walls or a double deck. They could have handles, lifting rings or doors; perhaps you want it painted. Tell us what you need…
Plywood Boxes and Plywood Crates: are typically used to reduce overall weight for air freight and small shipments. Plywood crates have a heavier deck and would be used for larger, heavier air freight or small, heavy shipments.
Bins maximize storage and help to keep the workplace organized. Bins are widely used on pallet racking to improve safety; they prevent accidental falling loads and provide correct securing of loads.
Hood Crates: are most commonly used to cover vehicle and equipment cabs to protect them when shipping. However, the hood crate is far more versatile. Fitted with handles, the hood and walls can come off the deck in one piece providing easy access for display, inspections or training.